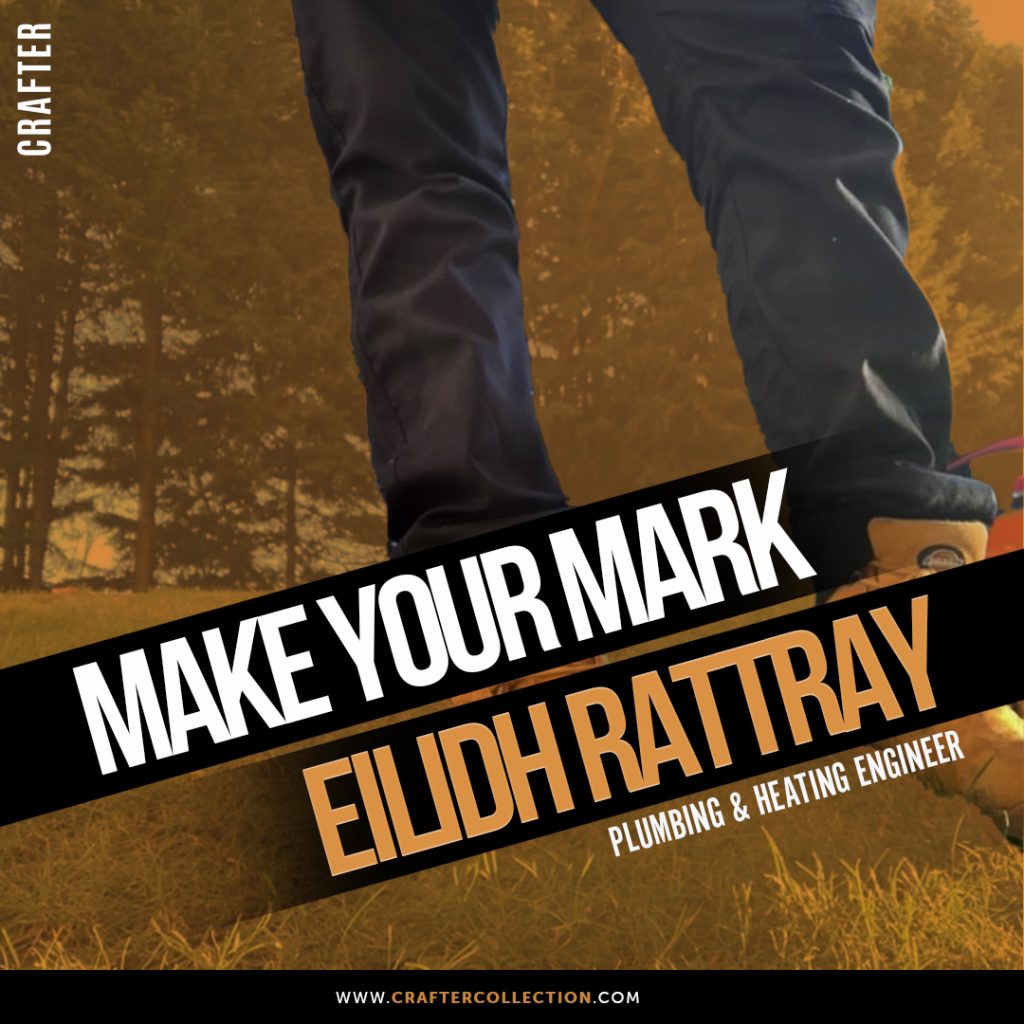 We believe that everyone has the ability to make their mark on the communities and industries they contribute to. At crafter, we want to showcase those who dedicate their time and emotion to make an impact in their chosen sector. Our next guest Eilidh Rattray can be seen above wearing our Workwear Trouser.
Age
24
Occupation
Plumbing and Heating Engineer
How Long Have You Worked In Your Chosen Trade?
6.5 years
Give us an overview of your role and what it entails?
Servicing, maintaining, and installing central heating systems and plumbing works. Completing paperwork, assessing, and surveying to quote.
What Was The Inspiration For Going Into Your Chosen Career?
Not having to sit in an office in one place. Something different every day, wanting to be on the go.
What Parts Of The Job Do You Enjoy?
Helping people get important things around the home fixed and serviced, seeing people smiling after having issues.
What Are The Challenges That You Face During Your Day To Day Work?
In 6.5 years, I've had to wear men's trousers to be comfy they are always either too big at the waist and too small on the leg or too small at the waist and too big on the leg! Being made to feel like it's rare for a woman to be doing a "man's job". Being told I'm either better than the men constantly or being told I'll never be as good as the men. Rarely being treated as equal when I'm doing the same jobs and tasks as others. These industries are for everyone. Clothing! I usually have to wear joggers or shorts to work because women's workwear for trades just aren't comfortable or aren't stretchy enough for the ever-changing female bodies.
If You Could Make Any Changes To Your Industry, What Would You Like To See?
More equality, more women, more opportunities for everyone to progress and get access to training easier.
We All Love To Read Books, Watch Tv And Listen To Music. Give Us One Read, One Watch And One Listen
She Engineers: Outsmart Bias, Unlock Potential by Stephanie Slocum, Body and the Beast podcast. Brooklyn 99.