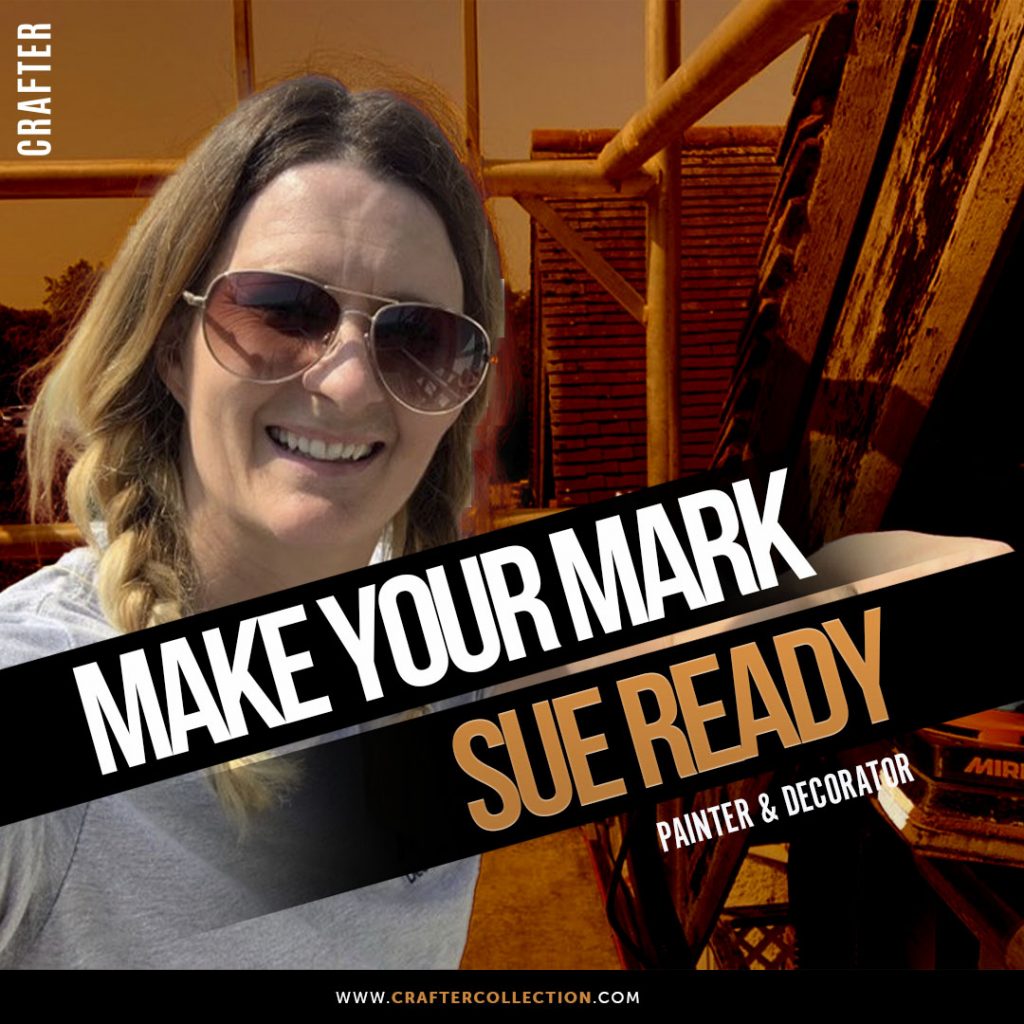 We believe that everyone has the ability to make their mark on the communities and industries they contribute to. At Crafter, we want to showcase those who dedicate their time and emotion to make an impact in their chosen sector. Our sixth guest Sue can be seen above working in her trade.
Check out Sue Ready's Instagram https://www.instagram.com/thisgirlcanpaint.co.uk/?hl=en
Age
40 something
Occupation
Painter and Decorator
How Long Have You Worked In Your Chosen Trade?
3 years
Give Us An Overview Of Your Role And What It Entails?
I'm a sole trader and work on my own currently. I carry out domestic residential and small to medium commercial projects. My interest and specialism is wood restoration, wallpaper hanging, offering advice around interiors and what coatings work, what colour work well. I do consultation work and showcase products for commercial creative companies which is fun and really allows a cross section collaboration between construction and great creative and visionary minds!
Skills needed are being confident, even though you learn new every day. Research products. Don't cut corners. Organisational skills. Business planning. Be an agitator and disruptor, offer clients an experience that they won't get anywhere else. Tidy, clean, social media skills (I'm still learning this) get the right tools for the job. Be prepared to learn new skills to stay relevant.
What Was The Inspiration For Going Into Your Chosen Career?
My children, my family, my best friend. My former career was proving challenging. The hours were long, travelling was awful and I was losing interest and I was seeing less of my children which I wanted to change. In addition, my sister who I'm a carer for had experienced a trauma and moved house. In my spare time I decorated for her. My best friends mum had been diagnosed with terminal cancer, the world fell out from under her. So I decorated her room to do something nice for her. I had an epiphany at this point because I absolutely loved being with families, new people, doing something that really made people feel happy. So I took the plunge, the rest is history.
What Parts Of The Job Do You Enjoy?
The creative side, where people haven't got a clue what colours, or how many walls to have wallpaper on, or the challenges of how to deal with problem décor. Remedial stuff. I love losing myself in sanding and the prep.
What Are The Challenges That You Face During Your Day To Day Work?
I'm super busy and i have to have boundaries to stop taking work on which may interfere with my personal life. (Weekend working)
Valuing myself and the work I do, feeling like the money I charge is ok. Online/social media issues/negative comments are an industry wide challenge for women in the trade. I work alongside some amazing men in construction, the suppliers are brilliant, but negative images, language, and misogyny of women from a minority of males in the trade, create barriers to being able to find women staying in the trade.
I am a woman of perimenopausal age so being able to talk to others about with shame is important, as it access to information, but this again could be a barrier to entering the trade or leaving prematurely.
If You Could Make Any Changes To Your Industry, What Would You Like To See?
Greater monetary benefits and recognition of additional challenges women face when they're pregnant or have had their babies. Support to get women post birth back into the trade. Support and guidance while pregnant would be useful.
We All Love To Read Books, Watch Tv And Listen To Music. Give Us One Read, One Watch And One Listen
Book: KL Slater The Widow (audio books), TV: RuPauls drag race (with my 14 year old daughter is awesome!) One listen: Sarah Milican: comedian I listen to her when I am rolling ceilings!! She has me in stitches (warning: come down from your ladder when listening – haha!)